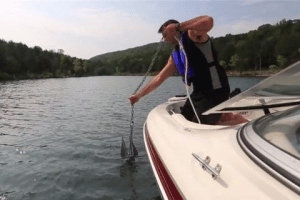 The following actions should be taken in the event of any breakdown during the operation of a pleasure craft:
Ensure everyone is wearing a properly fitted lifejacket or PFD;
Drop anchor if you have lost power and are drifting into a dangerous area;
Investigate the problem and rectify it if possible (check the your fuel levels, fuel line and dead man switch etc.); and
Use signals to indicate distress and need of assistance if necessary.
REMEMBER: If your engine has broken down and you are drifting to a rocky shore, you should first drop
anchor.