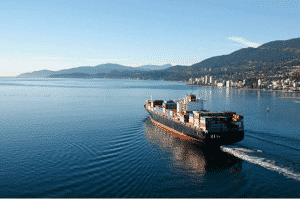 Shipping lanes are used by large commercial vessels. These vessels have limited visibility from the bridge (steering position) and may not be able to see or avoid smaller pleasure craft. They cannot quickly turn or stop, so they require more sea room.
Pleasure craft should exercise extreme caution when transiting near busy commercial shipping/traffic lanes.
Power driven vessels under 20m in length, including sail boats, are to steer clear and avoid shipping lanes whenever possible. If you must cross a shipping lane, do so at a 90-degree angle, and only when it is safe to do so.
REMEMBER: Operators of small recreational boats should stay in groups if possible when navigating in or near a shipping lane to increase their visibility.