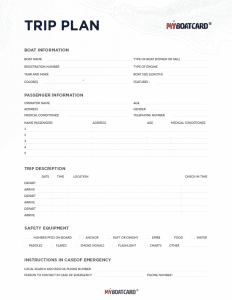 A trip plan, also referred to as a float plan or a sail plan, is a voyage itinerary that should include the departure time, travel route, duration of the trip, and basic details about your vessel. These details are necessary to assist search and rescue personnel in the event you do not return from your trip.
Before heading out, all pleasure craft operators (especially vessels not equipped with a VHF radio) are encouraged to file a trip plan with a responsible and trusted person familiar with the instructions to follow in case of an emergency. If this is not possible, the trip plan can be filed with any Canadian Coast Guard Marine Communications and Traffic Services Center.
If you are taking a long trip over several days, it is highly recommended that you file a daily position report (especially if you change your route). If you extend your trip, be sure to update the plan with the person with whom it is filed, to avoid that person initiating an unnecessary search and rescue.
Always deactivate your trip plan by reporting that you have returned from your trip. This will prevent an unnecessary search from being launched. The person holding your trip plan should be instructed to contact the nearest Rescue Coordination Center if you are overdue.
A good trip plan should include the following information:
Name and license number of your vessel;
Your vessel's type (i.e. whether it is a sailboat or power-driven);
Name, address, and telephone number of the operator;
Number of persons on board;
Size, type and colour of the craft;
Type of engine (i.e. inboard, outboard);
Distinguishing features of the vessel;
Type of marine radio, if any, and channel being monitored;
Safety equipment on board, including flares, lifejackets, and life rafts;
Description of the trip, including time of departure, time of return, proposed route, and destination;
Instructions in case of emergency.
REMEMBER: Always deactivate your sail plan upon completion of a trip.