Transport Canada Accredited.
MyBoatCard.com®  is accredited by Transport Canada to deliver boating safety courses and administer tests for the issuance of Pleasure Craft Operator Cards, including replacement cards, under the Competency of Operators of Pleasure Craft Regulations.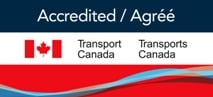 MyBoatCard.com® is Canada's trusted provider of boating licenses (PCOCs) and boating safety courses.
Since 1999, we have been helping Canadian boaters get the education and certification they need to safely and responsibly enjoy the nation's waterways. As a Transport Canada accredited provider, we offer an approved boating safety course and Transport Canada exam to help boaters of all levels obtain their Pleasure Craft Operator Card (PCOC). The PCOC is required by law to operate a power-driven vessel in Canada.
At MyBoatCard.com, we pride ourselves on offering top-quality education that is convenient, affordable, and easy to access. Our boating safety course is available online and can be completed at your own pace, so you can fit your studies into your busy schedule. We also have a team of knowledgeable and friendly customer service representatives who are here to answer your questions and provide support whenever you need it.Whether you are a seasoned boater looking to refresh your boating knowledge or a beginner looking to get started, the MyBoatCard.com boating safety course is for you.Join the more than 2 million certified Canadians and go boating today.