Where you can get your boating license.
Transport Canada Accredited.
MyBoatCard.com®  is accredited by Transport Canada to deliver boating safety courses and administer tests for the issuance of Pleasure Craft Operator Cards, including replacement cards, under the Competency of Operators of Pleasure Craft Regulations.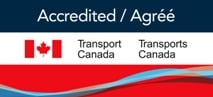 MyBoatCard.com®, encourages boaters in all provinces across Canada to take the Transport Canada approved boating safety course and certification exam to obtain their Canadian Boating License.
It is now the law in Canada to have a boating license while operating any power-driven vessel, such as a boat or personal watercraft. If you are caught operating a boat without a Pleasure Craft Operator Card, you may be subject to a fine of $250.
To make the process of obtaining your boating license as convenient as possible, MyBoatCard.com® offers online and classroom options for taking the certification exam.
Simply click on the area below to find a location near you: