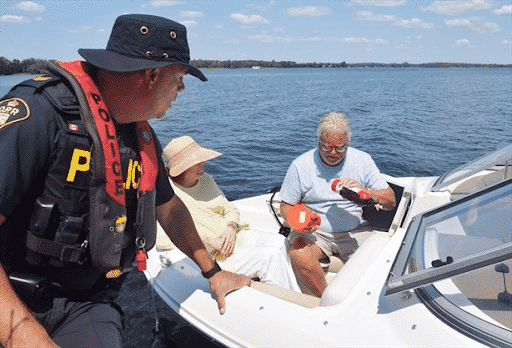 Safety is a shared responsibility of Canadian waterway users and the organizations that govern them.
Boaters must operate their boats safely. This means you must learn and follow the rules that apply to your boat as well as to the waters where you will be boating.
An enforcement officer may inspect your boat and monitor your boating activities to make sure you meet the requirements that apply. An enforcement officer may also direct or prohibit vessel movement in the interest of public safety. An operator may face fines and/or imprisonment if they fail or refuse to stop and comply with law enforcement requests.

Enforcement officers may:
Ask for ID;
Ask for proof of competency (PCOC);
Ask any pertinent questions;
Board your vessel; and
Examine a vessel and its equipment.

A enforcement officer can be:
A member of the Royal Canadian Mounted Police (RCMP);
A member of the harbor or river police;
A member of provincial, county or municipal police force; and
Any person designated by Transport Canada.
Carry Your Documents
When heading out in your motorized boat, make sure to bring on board:
Proof of competency;
Personal identification; and
Pleasure craft licence (for 10hp or more).