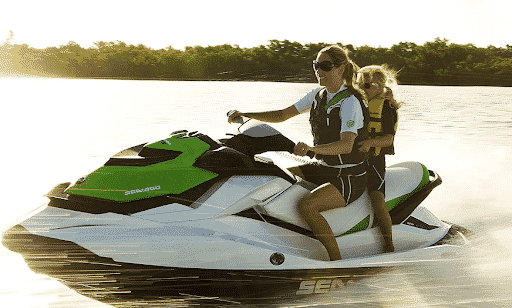 Safe use of a Personal Watercraft (PWC) requires skill and experience. PWC operators must be at least 16 years old and have proof of competency and proof of age on board.
Before you let someone borrow your PWC, you must make sure that they know how to operate it safely and responsibly.

Here are some other basic tips:
Always wear a Canadian-approved lifejacket or PFD (inflatable PFDs are not allowed). Choose a bright color for better visibility;
Wear thermal protection when operating in cold water (water colder than 15°C);
Read the owner's manual before setting out;
Attach the engine shut-off line (kill chord) securely to your wrist or lifejacket or PFD;
Respect speed limits and other vessel operation restrictions;
Be cautious, courteous and respect your neighbours. Many people dislike the noise a PWC makes when it is operated for long periods of time at high speed in one place, especially when it is used to jump waves;
Be aware of the impact your PWC can have on the environment. Avoid high speeds near shore;
Stay alert! At high speeds, it is hard to see swimmers, water skiers, divers and other PWCs in time to avoid them;
Do not operate your PWC after dark or when visibility is poor;
Make sure your PWC is properly licensed and marked; and
Do not start your PWC if you smell gasoline or fumes in the engine compartment. Have a qualified technician check it.
REMEMBER: Inflatable PFDs are not allowed to be used on a personal watercraft.