Pleasure Craft Courtesy Check Program
Transport Canada works with the Canadian Coast Guard Auxiliary, the Canadian Power and Sail Squadrons and other boating safety organizations to offer free courtesy checks for pleasure craft.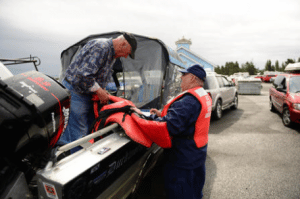 If you agree to a courtesy check on your vessel, a trained boating safety volunteer will board your boat to:
Check out the safety equipment and other requirements;
Identify any problems; and
Discuss general boating safety issues.
Education and prevention are the keys to this program. Since there are never any penalties involved, it's a great opportunity to learn more about boating safety and make sure that you are ready to head out on the water.
Visit Transport Canada's Office of Boating Safety website for more information.
REMEMBER: The main purpose of a Pleasure Craft Courtesy Check is to review all safety equipment with a knowledgeable expert.