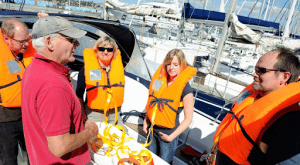 Before taking passengers out on the water, the operator of a pleasure craft should also conduct a pre-departure briefing with all passengers to provide them with the required safety information and emergency procedures.
The safety briefing should include:
The location of personal flotation devices (PFD'S) and/or lifejackets;
How to put on a personal flotation device or lifejacket;
A technique for putting on a personal flotation device or a lifejacket when in the water;
The importance of wearing personal flotation devices or lifejackets at all times;
The location of the emergency kit;
The location of fire fighting equipment and how to use it.
The importance of keeping oneself low in the boat, on the boat's centerline, and holding onto a rigid part of the boat while moving around on board;
The importance of keeping one's hands, arms, and legs inside the pleasure craft when approaching or leaving a dock;
The effects that the motion of the pleasure craft, sunlight, waves, wind, sound, and alcohol can have on a person's reflexes and senses;
The roles of all on board in the event of an emergency; and
The procedure for a man overboard (MOB) scenario. Someone on board needs to always keep an eye on the person in water during a man overboard scenario.
REMEMBER: Make sure that at least one other person on board knows how to operate the boat in case something happens to you.