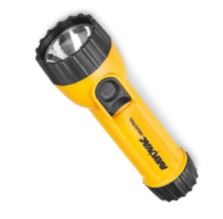 In an emergency, a flashlight can be used to signal for help. Almost all vessels are required to have at least one watertight flashlight.
A watertight flashlight qualifies as a navigation light on non-powered vessels (canoes, rowboats, or sailing dinghies) as well as on sailboats less than 7m. Flashlights can be used as an alternative to flares for certain vessels. A kayaker should display a flashlight at night to prevent a collision.
An S.O.S distress signal can be sent by turning on and off the flashlight in the following pattern :
Three short bursts;
Three long bursts; and
Three short bursts.
REMEMBER: Check the flashlight batteries before each trip. It is a good idea to carry extra batteries on board in a sealed bag.